04 / 11 / 2021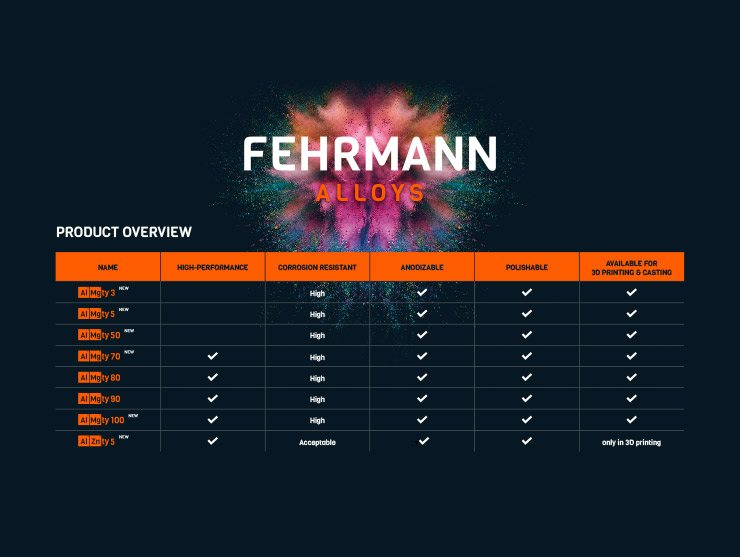 FEHRMANN Alloys' Formnext-premiere: 6 new Aluminum alloys added to the unique AlMgty 

This extension of its product portfolio makes the company No. 1 worldwide for the range of aluminum alloys offered for additive manufacturing
FEHRMANN's alloys family is growing fast: After the success of corrosion-resistant, high-performance AlMgty80 and AlMgty90 which are available both for 3D printing and casting, FEHRMANN Alloys now presents high-performance aluminum AlMgty70, AlMgty100 as well as standard cast aluminum AlMgty3, AlMgty5, and AlMgty50 now available for 3D printing. Furthermore, FEHRMANN introduces its new aluminum-zinc alloy AlZnty5 to the global market. As a consequence, the majority of currently available aluminum alloys for additive manufacturing now comes from the Hamburg based company.
"One design, one material, one to one million parts." That's the Fehrmann concept in a nutshell. In the past years, Fehrmann Alloys have developed high-performance aluminum alloys for 3D printing one-offs or small series production, as well as for casting huge volumes on an industrial scale. And some of the alloys, are even suitable for extrusion. 
Fehrmann Alloys constantly innovates to add new value-adding materials to the 3D printing and casting industry including optimal cast and print parameters. To do so, the company leverages in-house expertise and long-lasting technology partnerships with leading institutes such as Fraunhofer Research Institution for Additive Production Technologies IAPT. 
To meet every customer's needs, the product range now contains seven alloys in the AlMgty-family and their new cousin AlZnty5. And all these alloys are printable, polishable, anodisable even in color, non-corrosive and show amazing mechanical properties that are transferable across additive manufacturing and casting. For alloys that cover prototype to serial applications, look no further than Fehrmann Alloys. Find them at Formnext booth 12.0 C121 to learn more. Numerous components printed from AlMgty will be on display there; they demonstrate the wide range of possible applications, e.g. in the automotive sector, and the various finishing options.
Click here for an enlarged view of the product overview.
Press Contact
For further information and pictures please contact us.
Tamara Petersen
Manager Marketing & Communication
T +49 40 75246344